Scholarships in Nigeria
National Information Technology Development Agency (NITDA) Scholarship 2023/2024 For Nigerian Students
National Information Technology Development Agency (NITDA) Scholarship Scheme 2023
Are you looking for a scholarship program? Do you want to enjoy free education? then take a break and look into this scholarship program. The National Information Technology Development Agency (NITDA) Is offering scholarships to interested eligible Nigerian students in the designated field to study in any university in Nigeria.
National Information Technology Development Agency (NITDA) Is a Nigerian tech agency that has contributed immensely to the development of Nigeria's tech and Africa at large. In their efforts to create great minds in Africa who are well learned, the National Information Technology Development Agency (NITDA) Has initiated this scholarship program to help Nigerian students.
The main aim of this scholarship is to help In educating Nigerian students in certain fields. While many scholarship programs are designed for many fields, the objective of the  National Information Technology Development Agency (NITDA) Is to help in training students in the field of Information technology and Law.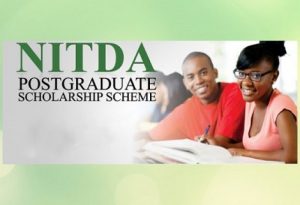 If you're a Nigerian Law student or Information technology and you wish to pursue your studies more in the above-mentioned fields, then National Information Technology Development Agency (NITDA) scholarship program can get you covered. All you have to do is read through the information that will be provided below.
Before the end of this article, individuals will be able to know all the information regarding the application of this scholarship scheme. The requirements that you need for the application, criteria, documents and everything will be discussed.
Scholarship Host
National Information Technology Development Agency (NITDA) is a Nigerian based tech agency. This means that the scholarship board is hosted and carried out in Nigeria. All the application processes and screening exercises are done in the country too. Nigerians overseas who want to apply for this scholarship must come down home, Individuals living outside the country cannot apply.
Scholarship Type
Unlike other scholarship programs, the National Information Technology Development Agency (NITDA) scholarship program Is designed mainly for postgraduate students who want to pursue their masters or PhD, particularly in the field of Law and Information technology. NITDA scholarship will not extend beyond these fields and such interested individuals from all over the country are eligible.
The scholarship grants Individuals the opportunity to enjoy free education in any university across Nigeria. It is a fully-funded scholarship scheme where individuals are given all the necessary fees required during their educational pursuits.
Selection Criteria for The NITDA Scholarship Award
The agency in collaboration with all the various universities in Nigeria will offer a smooth running application to make sure that transparency and equity are maintained. The scholarship is based on merits and individuals are selected from all the six geo-political zones in Nigeria.
Deadline for application
The application for the NITDA scholarship program is currently ongoing. The portal will be closed by November 21st, 2023. Although the time of the application varies for each academic session and also due to the covid19 the application time is not stable, to know more about the application time, you can visit their website for updates.
Eligibility
PhD: The scholarship is granted to universities and polytechnic lecturers who have MSc in Information and technology-related fields. Individuals outside this field are hereby not eligible to apply for this scholarship program
MSc: The Master's degree applicants must have at least first class in their first degree or second class upper to be eligible for the application. Such an interested applicant must have studied in Information and technology-relater fields of Law.
Scholarship Duration and Numbers
For records, the scholarship normally shortlists a good number of candidates yearly, however, there is no fixed number of applicants chosen yearly for this scholarship award.
For the duration of the study, individuals in the master's degree program are granted the opportunity to study for one year. The PhD students are entitled to up to three years of studies.
How to Apply for the National Information Technology Development Agency (NITDA Scholarship Program
In order to apply for the scholarship program, you should follow the following guidelines.
Creating a profile with them: Application for the NITDA scholarship is done online on the website of the National Information Technology Development Agency (NITDA). In order to create your profile, you will have to login to the website and input your personal information.
The form will be made available on the website for you to fill in, enter your correct names, address, and other valuable information on the web page. Endeavor to add an active email address because all information will be conveyed to you via the contact information you provided.
After filling everything in, submit your application and begin uploading your documents. Your passport to be uploaded must be scanned and should not be more than 50kb. The passport format should be in Jpg and must be recent and clear
Your certificate should be scanned and converted to PDF format before you can upload it. Note, it must not be more than 100kb.
After the application, there will be an attitude test nationwide for all the applicants. Those that passed the aptitude test will be shortlisted for the scholarship award.
For more information about the NITDA scholarship program, you can visit their official website or forward your question to scholarship@nitda.gov.ng.