Agip Postgraduate Scholarship Award for Nigerian students 2023
Are you looking for a scholarship to apply and be granted easily? Are you a student looking for a scholarship to pursue your postgraduate program? Then hurry up to apply for the Agip Postgraduate scholarship program.
All interested eligible Nigerians are allowed to apply for the Nigerian Agip scholarship program. It is a financial awarding scheme issued as a scholarship to students of certain fields in their postgraduate studies who applied and have met the requirements. The Nigerian Exploration Limited (NAE), on behalf of the NNPC/NAE/OANDO PSC, is granting this annual scholarship program as part of its social responsibility in promoting and increasing the literacy rate in Nigeria.
As part of its corporate social responsibility, the Nigerian Agip Exploration Limited (NAE), on behalf of the NNPC/NAE/OANDO PSC is committed to building the youths of Nigeria through these annual grants.
If you're interested in applying for the scholarship, then hurry today as the application is still ongoing. Meanwhile, in order to know if you can apply for the scholarship scheme or not, this article will provide you with all the necessary information you need.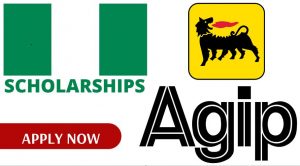 Scholarship Host country
The Nigerian Agip Exploration Limited (NAE) just like other scholarship awarding companies in Nigeria is an oil and gas producing company. The scholarship is granted on behalf of NNPC/NAE/OANDO PSC. It is a Nigerian-based scholarship award where individuals apply and carry out all its activities in Nigeria.
Scholarship Type
From its name, one does not need to be told that the Agip Postgraduate scholarship scheme is mainly for students in postgraduate programs. Although we have an Agip undergraduate scholarship award granted to students who are pursuing their first degree.
Additionally, this postgraduate scholarship program is paid to the beneficiary in a lump sum for their programs. This is to say that after an individual has been granted this award, he/she will be granted an amount of money to cover the tuition fees and accommodation for the period of studies.
Eligible courses
Agip postgraduate scholarship scheme is limited to certain fields. All applicants who are interested in applying for the scholarship must be willing to study in the following fields.
Geosciences
Petroleum Engineering
Civil Engineering
Structural Engineering
Mechanical Engineering & Sub Sea
Electrical Engineering
Marine Engineering
Chemical Engineering
Electrical Engineering
Petroleum Economics
Oil and Gas Law
Individuals who did not study in any of the above mentioned or related fields in their first degree will not be eligible to apply for this scholarship program
Age Limit for Agip Postgraduate Scholarship Scheme
In order to apply for this scholarship program, applicants must be at most 28 years. Individuals above the age of 28 will not be eligible to apply.
Eligibility/ Requirements for the Agip Postgraduate Scholarship Award
Applicants of this scholarship scheme must be a resident of Nigeria before they can be qualified to apply
Interested candidates must have completed their mandatory one year National Youth Service Corps (NYSC)
You must be pursuing your postgraduate program in the eligible courses mentioned
Depending on the category, individuals before applying for this scholarship award is expected to have gained admission to any university in Nigeria or abroad
Candidates must have a minimum of undergraduate qualification
Applicants are enrolled to study a 1-year masters degree program in their respective courses
Documents needed for the Application
All applicants of the Agip postgraduate scholarship program must scan and upload the following documents:
Passport size photograph of not more than 200kb and should be in (450px by 450px) the passport background must be in white color
You must obtain and present a treasury receipt of N2,000 for the scholarship form before starting the application
Your both School and JAMB Admission Letter will be required
A valid Identity Card either for your school, National identity card, driver's license or an international passport
Your senior secondary school examination result, (SSCE) is also needed
A written Letter of identification from the traditional ruler of your place
Letter of identification from Local Government/ State of origin certificate
Certificate or statement of Result from your school stating graduating results
Evidence of Consolidated Payment Confirmation
LASSRA Registration card
How to Apply for Agip Postgraduate Scholarship Award 2023
In order to apply for the Agip scholarship program, all the interested eligible students are to visit the website of the application and begin their online application with them. Below is the breakdown of the application process
Open Apply now tab: After you login to the website, you will see the "Apply now" tab on the full screen, click on it and you will be directed to the next page.
Create an account with your details: After clicking on the apply now tab, you will be directed automatically to the account creation page. You're to fill the gaps provided with all your personal information needed for the application. It includes your name, parents' names, home address, contact information, and so on.
Check your email box to activate your account:   After you have successfully created your account, an activation link will be sent to you via the email address you provided, click on it to activate your account.
Login with account details: After then, you can visit the scholarship portal again and login with your email address and password (you have already gotten account with them)
From there, you upload your printed form then followed by other documents you have to upload for the application
After the successful application, an email will be sent to you to confirm the successful application submission.
An aptitude test will be conducted for all the candidates across the country. Applicants should be careful while entering the information. Ensure you provide an active email address, in case of corrections of names or any other data correction, make sure you upload an affidavit of change for that.
Application Deadline
Candidates of the Agip postgraduate scholarship scheme are expected to complete all their online applications before the end of June 2023.
For more information about the Agip postgraduate scholarship program, you can visit their website.