Sokoto State Government Scholarship Program
Sokoto is a core northern Nigerian state often referred to as the seat of the caliphate. Subsequently, the state has suffered damages due to poor education over the years as a higher percentage of indigenous citizens and inhabitants are uneducated.
To combat this, the government of Sokoto state has organized a scholarship program for indigenes of Sokoto state who are interested in schooling and have passed all the simple assessment levels.
Are you an indigene of Sokoto state? Are you looking for a scholarship to study? then you don't have a problem if you are from Sokoto state because the government of the state is offering free scholarships to students at all levels. All you have to do is read through all the contents carefully.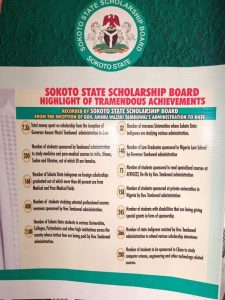 At this age, all information about the Sokoto state government scholarship program will be disclosed to you including the application processes, how to apply, where to apply, the requirements of the scholarship, and the benefits. More so, all the documentation processes will be disclosed, and additionally with the deadline of application.
Scholarship Host
Although it is quite obvious that the Sokoto state government scholarship program is designed mainly for students who are an indigene of Sokoto state. However such students are enrolled to study not only in Sokoto state but all the various higher institutions in Nigeria.
The scholarship board and its ending application are submitted in Sokoto, the state headquarters of Sokoto state under the supervision of the States ministry of education.
Scholarship Type
The Sokoto state government scholarship program is a very consistent one. There are no years when the government of the state does not have a certain budget designed to help their indigenous students financially. Such students are mostly undergraduate students who are either fresher or returning students. However, students of postgraduates are also offered scholarships by the state government. In most cases, such students are sponsored to study overseas while others continue their studies within Nigeria.
Requirements for Sokoto state government scholarship program
Applicants must be indigenes of Sokoto state before he/she can apply
All candidates must have completed their secondary school and obtained their SSCE results with either of WAEC/NECO and have at least credits in all the 5 relevant subjects including Maths and English
Applicants must be admitted into any recognized tertiary institution in Nigeria
They must attend the mandatory screening processes and have all their documents accessed and screened before they can be shortlisted
Documents Needed for the Application
State of origin or certificate of Origin of Sokoto state
Birth certificate or Declaration of Age
JAMB admission letter
School admission letter
Affidavit for correction of data If you make any changes in your names, or date of birth.
How to Apply for Sokoto State Government Scholarship
All interested qualified students are to forward their application to the Sokoto state government scholarship board to begin their application. Individuals are to complete a simple registration and subsequently, screening before he/she will be shortlisted.
Screenings are conducted across the various schools. Students must not travel down to Sokoto before completing their application. After that candidates will be selected and enrolled immediately.
Deadline of Application
Applicants who are interested in applying for the Sokoto state government scholarship program are required to stay tuned. The application begins in every new academic year and notice will be posted across all your institutions of learning.