Lagos State Government Scholarship
Are you an indigene of Lagos state? And you're willing to be enrolled to study in a university of your choice in Nigeria? Then this scholarship program is for you. The Lagos state government scholarship program is just one of the many scholarship opportunities for Lagos states indigenes to enjoy.
In every academic year, the government of Lagos state through its scholarship board selects a certain number of applicants who are indigenes and are qualified for the scholarship program. So if you're a student from Lagos state and you're looking for any form of financial aid to help your studies, then you're entitled to apply and be granted the Lagos state government scholarship as long as you meet its criteria to be granted.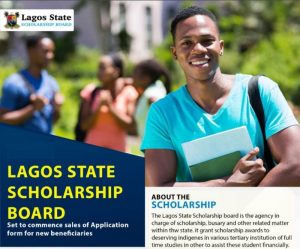 Aims of the Lagos State Scholarship
The main aim of the scholarship scheme by the Lagos state government is to improve the literacy rate in the state through financing students' education and to create leadership qualities among the coming generations.
The scholarship isn't a fully funded one, however, the allocated amount is more than enough to suffice some funds such as tuition fees, books, accommodation, and sometimes for other expenses.
Scholarship Host
As stated earlier, the Lagos state government scholarship program is hosted and opened to only indigenes of Lagos state. All applicants who are residents or students in any tertiary institution in Lagos are not eligible for this scholarship award. However, they can check for other scholarship schemes out there.
Scholarship Type
Lagos state government scholarship program is for all types of students who are indigenes of Lagos and have completed their elementary schools and obtained their SSCE results. All undergraduate and postgraduate students can apply for the scholarship as far as they have met the eligibility score.
Also, the scholarship is only available for full-time students of any tertiary institution (government own). Part-time students are not eligible for this scholarship award. If you're on a part-time scholarship, you can check out all the various scholarship schemes you may be qualified for.
Award for the Lagos State Government Scholarship
The Lagos state government scholarship award is a one-time grant for its beneficiaries. This means that the scholarship will be granted once and under a stipulated amount of money. Although the scholarship can be renewed subsequently under certain conditions, the amount for this one-term grant is about NGN 200,000 to 300,000 yearly.
Deadline for the Scholarship Program
The Lagos state government scholarship will be open at the beginning of every new academic year. For 2023 applicants, the application will be closed 31st of May, 2023.
Requirements for Lagos State Government Scholarship Program (for both undergraduate & postgraduate)
You must be an indigene of Lagos State
All applicants must have completed their elementary secondary school and have obtained their Senior Secondary School Examination (SSCE) results
You must be a full-time student of any recognized university in Nigeria, students of part-time will not be acknowledged
If you're a postgraduate student with a Bachelor's degree from any university, you must have at least 4.5 CGPA on a 7.0 scale point or 3.5 CGPA on a 5.0 scale point. For polytechnics or college of education using the 4.0 scale, you must at least have 3.0 on a 4.0 point scale
Medical students of 200l and 300l may have to present their previous results for the registration
There's no age speculation for the Lagos state government scholarship program. All applicants who are above the age of 2 can apply
You must complete your LASRRA registration
Evidence for State of Origin/Local government
School ID card, International passport, or National ID card will be needed before you can be eligible to apply
You must provide an identification letter fully signed by your respective oba for the application
You must also present a signed identification letter by your respective local government.
Documents needed for Lagos State government Scholarship Application
The following documents will be needed before you can successfully register for the Lagos state government scholarship program award.
A recent photograph (passport size) with white background, and should be 3 months old or less in (450px by 450px) format, ut should not be above 200kb in size.
A receipt of NGN 2,000 as treasury form for the scholarship
Your JAMB and university's admission letter
Your Senior Secondary School Examination (SSCE) result
School ID card
A written Identification Letter from Oba your Oba
Your LASSRA registration card
Letter of identification from Local Government
A signed and stamped statement of result or transcript indicating your last CGPA clearly
Evidence of Consolidated Payment
Confirmation Slip
How to Apply for the Lagos State government Scholarships Program
To register, you should visit the website of the Lagos state scholarship board and follow all the instructions provided. However, before then you must buy a Bursary application form at the sum of NGN 1,000. For law students, the form will cost about NGN 2,000. This is done through the Office of Special Adviser on Education, Alausa Secretariat.
After making your registration online and you have uploaded all the documents required, you will attend the scholarship interview which will be conducted by the boards, there you will be screened by the panels consisting of Permanent Secretaries, Traditional rulers, and directors.
Safety Precautions during the Application
It is more than important to get all the necessary documents before beginning your application process. Having tattered documents can also invalidate your award. Ensure you present a valid and active email address/phone number during the application. All information for the scholarship will be communicated to you via the contact details you provided. Shortlisted candidates will be invited for an aptitude test in any designated center respectively.
To know more about the scholarship program, you can visit the official website of the Lagos state government scholarship program.