MTN Foundation Undergraduate Scholarship 2023-2024
MTN Undergraduate Scholarship Foundation is a fully funded undergraduate scholarship scheme for young Nigerians who wish to study any of the designated courses and are eligible to apply.
Nigerian students are privileged to be one of the most entitled students in Africa with hundreds of scholarship foundations for them to enjoy. Recall that the scholarship is a non-governmental foundation, its board covers all the regions of Nigeria.
Of course, the MTN scholarship foundation is a national scholarship known for its transparency and its ability to promote national unity by carrying all regions along evenly. Not to mention the numbers of applicants they shortlist yearly plus the alumni.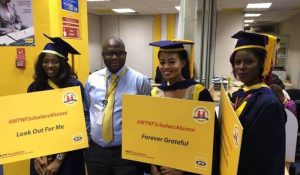 The scholarship scheme is made of two categories of applicants, the  MTN Science and Technology Scholarship Scheme (MTN STSS) and the MTN Scholarship Scheme for Blind Students (MTN SSBS). All scholarship categories fall under the same categories with the aim to improve the quality of education among Nigerian youths.
If your intention is to participate in any scholarships scheme as a Nigerian, you can as well check for your eligibility in the MTN scholarship foundation. The application is ongoing for all undergraduate Nigerians to apply as far as they meet up with the requirements.
Scholarship Host Country
The MTN foundation scholarship scheme for Nigerians has its boards and panels located in the country. Although they're numerous MTN scholarships for countries other than Nigeria, this one is particularly for citizens and permanent residents of Nigeria who want to study in any public university here.
Aims of the Scholarship
MTN is a private telecom giant in Nigeria and Africa as a whole. The beauty is that the scholarship is awarded to up to 500 Nigerians to study in any government's owned tertiary institutions in Nigeria under some selected courses.
MTN scholarship is fully funded for all undergraduates intending to be enrolled. The funds consist of students' tuition fees, their accommodation, and some monthly stipend for maintenance. The fact that it is fully funded for the study time doesn't mean students cannot be disqualified. You're eligible to renew the scholarship every year as long as you maintain your 3.5 CGPA or more for 4.0 scale point or any equivalent second class upper.
MTN Scholarship Foundation Award Price
At the moment, the scholarship awards its beneficiaries with the sum of NGN 200,000 yearly to support themselves. Additionally, you will be enrolled into the MTN scholars foundation where you can be given a job to work with MTN.
Eligible Level and Fields of Study for MTN Scholarship Foundation
The foundation board is restricted to selecting students of a certain year. For the MTN scholarship foundation, the starting eligible year is 300l and students must be in full-time studies. Part-time students are not eligible to apply for this scholarship scheme.
The foundation board only selects applicants from any of the following fields.
Accountancy/Accounting
Agronomy
Animal Breeding and Genetics
Agric. Extension and Rural Development
Agricultural Science
Animal Production and Health
Animal Nutrition
Applied Physics
Aquaculture and Fisheries Management
Architecture
Chemical Engineering
Civil Engineering
Computer and Electronics
Computer Engineering
Computer Science
Computer and Information Science
Computer and Mathematics
Electrical/Electronics Engineering
Electrical Engineering
Electronics Engineering
Engineering Physics
Electronics and Computer Technology
Information Technology
Industrial Mathematics
Industrial Physics
Mathematics
Metallurgical and Materials Engineering
Mechanical Engineering
Physics Electronics
Geophysics
Petroleum and Gas Engineering
Pure/ Applied Physics
Physics/ Computational Modeling
Statistics and Computer Science
System Engineering
Statistics
All other fields not mentioned here are not eligible for this scholarship award, however, they're many other fully funded undergraduate scholarship programs for them to check out.
Application Deadline for MTN Scholarship Foundation
At the moment of writing this, the scholarship is still ongoing and will be closing on 15th August 2023, for the 2023 application.
MTN Foundation Scholarship Eligibility for Applicants 2023
If you're looking forward to applying for this scholarship foundation, it is crucial to read through the following in detail before beginning your application.
You must be in your third year or 300l student in any recognized public university or tertiary institution in Nigeria
Part-time students are not considered, you must be a full-time student to be considered for the scholarship
You must have a strong Cumulative Grade Point Average (CGPA) to be eligible for this scholarship. At least applicants must have 3.5 CGPA on a 4.0-grade point or any other equivalent of 2:1 (second class upper).
If you're an applicant from polytechnic, you must at least have a minimum CGPA of 3.0 to be eligible for your Ordinary National Diploma (OND)
Also, you must have secured admission into Higher National Diploma (HND) prior to the scholarship application
If you're a direct entry student into any university, you must have gotten at least 3.0 on your National Diploma result, although you can only be eligible to apply at 300l.
MTN Foundation Scholarship Requirement
The application for the MTN scholarship is done online. It is a very simple process and all candidates who meet the first phase requirements after their documents have been accessed will be shortlisted for a simple assessment test. The date and methods of the test will be communicated to you via the information details you provided.
Applicants are required to submit the following documents for verifications.
2 recent passport photographs
A valid Student ID card
JAMB and institution admission letter
Any other means of identification (National Identification Card, An International Passport or a Driver's license)
For polytechnic students, you must provide an Admission letter for the HND programs
To know more about the MTN scholarship foundation, you can visit their official website.