David Oyedepo Scholarship Foundation Application Guidelines
Among the leading scholarship schemes across the African continent is the David Oyedepo scholarship. It is one of the most promising award-winning Scholarships for potential  African students who have demonstrated skills to be eligible for the offer. The scholarship program is bulky and its beneficiaries are entitled to fully funding education throughout their studies.
Oyedepo Scholarship Foundation program was founded by the African Nigerian Evangelist, David Oyedepo. Oyedepo, the founder of this scholarship is the renowned CEO of the Winners Chapel in Nigeria and its branches in various parts of the world. The scholarship is initiated with the aim to establish good educational values in Africa and to help in building the young generation by investing in their education to be learned persons in the society.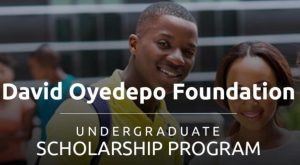 If you're a potential student today looking for any free hands to enroll you in school to study, then consider choosing the Winners chapel scholarship foundation today. It is a five years scholarship offer for its beneficiaries.
The beauty of this scholarship program is that it gives you the opportunity to study in one of the best-ranked universities in Nigeria (Covenant University) standing as the second-best in the country.
Scholarship Type
Oyedepo foundation program is a scholarship scheme for both Nigerian students and Africans at large. All interested qualified undergraduate and postgraduate applicants are allowed to register for this Scholarship. It is a fully-funded one that covers your tuition fee, accommodation, books, and a monthly stipend for maintenance fees. The scholarship will also host the intending students and will automatically give you an entitlement to be part of the Oyedepo foundations.
It is however very important to note that the scholarship program does not cover your feeding allowances, travel allowances, medical/Health Insurance, or allowance. In fact, any other fee apart from the university or academic fee will not be covered by the Oyedepo scholarship foundation.
Host country
While it is granted to all the African countries nationals who are eligible, the scholarship is hosted in Nigeria with its board and administration in Nigeria too. Individuals who are beneficiaries of this scholarship will be welcomed to study in Nigeria, mainly in the two designated universities (Covenant & Landmark university).
Countries that are eligible for the Oyedepo Scholarship Foundation
If you want to apply for this scholarship program, you can check the following lists of African countries to be sure your country is mentioned among the eligible ones.
Nigerians, Republic of the Congo, Rwanda, Algeria, Angola, Benin, Botswana, Burkina Faso, Chad, Comoros, Ivory Coast, Djibouti, Egypt, Equatorial Guinea, Eritrea, Ethiopia, Gabon, Gambia, Liberia, Libya, Swaziland, Tanzania, Madagascar, Malawi, Mali, Mauritania, Mauritius, Morocco, Mozambique. Burundi, Cameroon, Cape Verde, Central African Republic, Ghana, Guinea, Guinea-Bissau, Kenya, Lesotho, Tunisia, Uganda, Western Sahara, Zambia, Namibia, Niger, Sao Tome and Principe, Senegal, Seychelles, Sierra Leone, Somalia, South Africa, Sudan, Togo, and Zimbabwe.
Programs Offered by David Oyedepo Scholarship Foundation
The following are the lists of the available programs for individuals who want to study under the David Oyedepo Scholarship Foundation.
To study at Covenant University.
Accounting
Architecture
Banking, and Finance
Chemical Engineering
Civil Engineering
Economics
International Relations
Microbiology
Mass Communication
Computer Engineering
Mechanical Engineering
Petroleum Engineering
Applied Biology and Biotechnology
Industrial Physics-Renewable Energy
Computer Science
Electrical, and Electronics Engineering, Information & Comm. Tech
For applicants of Landmark university, you're entitled to choose from any of the following programs:
Accounting/Banking & Finance
Animal Science
Agricultural and Biosystem Engineering
Biochemistry
Computer Science
Crop Science
Chemical Engineering
Civil Engineering
Electrical, And Information Engineering
Economics
Mechanical Engineering
Microbiology
International Relations
Soil Science
For students who applied for any of the following courses, there shall be a special consideration for them as to which offer will be given or should they be given their desired courses
Medicine
Agriculture and allied courses
Education and allied courses
Para Medical science
Political science
Application Time & Deadline for David Oyedepo Scholarship Foundation
If you're an interested eligible applicant and you want to apply for this scholarship scheme, hurry up now and apply before it is too late. The application for this scholarship will close on August 15th, 2023.
David Oyedepo Foundation Scholarships Requirements & Eligibility
To be qualified, applicants must be citizens or permanent residents of any African Nation
You must be between the age of 18 and 25 at the time of the application to be eligible for this scholarship program
You must be qualified to be a holder of a Nigeria student visa before you can be qualified. Students who are not allowed to obtain Nigeria visas will be disqualified
You must be good in your English language proficiency in the various criteria such as writing, speaking, and reading
You must have a track record of excellent performance in your secondary school, for Nigerians, you must have at least 20 points above the JAMB cut-off mark, you must have already begun your admission processes to any of the Covenant or Landmark universities. Or you must have 4.0 CGPA on a 5.0 scale point or 80% average in your secondary or your high school transcripts.
Applying for the scholarship
For Individuals to be pronounced merit for this scholarship program, he/she will be accessed and interviewed through an online video call by the panels, and documents are screened afterward.
The panels will assess applicants based on the following documents and criteria.
Proof for financial need
Character evaluation proof
A proven record of superior scholastic ability.
Proof for good leadership and community involvement
Willingness to be committed to influencing community with your learned skills
Precautions for the application
During application, applicants can save and continue their application letter as many times as they want
An application that is left for up to 30 days without being touched or updated will be deleted automatically
Proper measures should be taken to make sure that all applications are submitted before the deadlines
All answers and documents to be uploaded are written in the English language. Documents written in other languages must be translated before submission
Application works must be original and done by the applicants
Email submission or any other forms of application submission other than on the website portal will not be considered
Endeavor to present active contact information. All information from the selection panels will be disclosed to you via the contacts details provided
All other precautions will be disclosed to you prior to the application or during the interview time.
For more information, you can visit the Oyedepo scholarship foundation website.