Kano State Government Scholarship Program
Virtually all states in Nigeria have scholarship programs for their indigenes. However, Kano is one of the notorious states with different kinds of scholarship opportunities. There are different scholarship programs for Kano states students to apply and be granted both for private and government fundings.
In an effort to combat the rate of under-education in the state, all the numerous scholarships are funded and granted evenly to all eligible students who qualify and have passed all the various criteria for the award.
If you're an indigene of Kano state and you're worried about how to further your education, specifically due to lack of funds, then worry not because the Kano state government scholarship program will get you covered. It is funded by the state government in collaboration with any other organization that may partner with them. No news, they're many organizations that support and fund the scholarship programs too.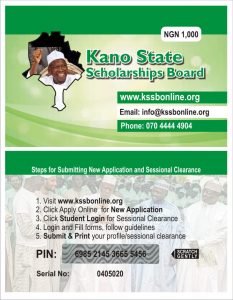 As an indigene of Kano state, you're given an entitlement to be granted any form of the scholarship program as far as you're eligible for it.
In this article, all information about the Kano state government scholarship will be provided. The time of application, areas of fields that are qualified, the requirements needed before you can be eligible for the application, the screening documents, how to apply, where to apply, and your method of application shall be discussed here. In addition, the benefit and rewards for this scholarship program will be disclosed towards the end of this article.
Scholarship Host
The Kano state government scholarship program is an education funding award granted by the government of Kano to its indigenes as an effort to combat and reduce the rate of illiteracy in the state, and to breed young generations with visionary thoughts and intellectualism. The scholarship program is offered by the state government to all indigenes alone. Individuals who are not an indigene of Kano state are not eligible for this scholarship program. Even if you're studying in any tertiary institution in Kano or you're a resident, you're not eligible to apply for it. However, they're numerous scholarship schemes you can apply for and be granted.
Scholarship Type
The Kano State government scholarship program is an undergraduate one for all students who are indigenes. The beauty of it is that it is a fully-funded one that will cover the tuition fees, accommodation fees, books, and other valuable academic fees.
The scholarship is open to all students who want to pursue their undergraduate programs in any of the tertiary institutions in Nigeria, and very much for Kano states tertiary institutions. Individuals who are studying abroad or any private university in Nigeria will not be eligible to apply.
Requirements/Eligibility For Kano state Government Scholarship Program
All Kano state indigenes are entitled to enjoy this scholarship award, however, in an actual sense, they're other requirements you must meet up before applying for it. In order to be qualified to apply for the Kano state government scholarship program, you must have the following requirements.
All applicants must be an indigene of Kano state before they can process the application
You must complete your elementary secondary school and obtain your Senior Secondary School Examination (SSCE)
You must have at least 5 credits in your O level including English and Mathematics and any other 3 relevant subjects related to your field, either in WAEC, NECO, or GCE.
You must be a full-time student of the designated tertiary institutions
All applicants must submit their results in one sitting only. Two sitting results will not be acknowledged
You should be studying in any of the following tertiary institutions in Kano
Kano State University of Science and Technology
Nigeria Police Academy, Wudil
Yusuf Maitama Sule University
Kano State Polytechnics
Kano State College of Education
National Open University
Eligible Courses for Application
Nano state government scholarship covers all the following courses:
Accountancy/Accounting
Agronomy
Animal Breeding and Genetics
Agric. Extension and Rural Development
Agricultural Science
Animal Production and Health
Animal Nutrition
Applied Physics
Aquaculture and Fisheries Management
Architecture
Chemical Engineering
Civil Engineering
Computer and Electronics
Computer Engineering
Computer Science
Computer and Information Science
Computer and Mathematics
Electrical/Electronics Engineering
Electrical Engineering
Electronics Engineering
Engineering Physics
Electronics and Computer Technology
Information Technology
Industrial Mathematics
Industrial Physics
Mathematics
Metallurgical and Materials Engineering
Medical Laboratory Science
Medicine
Mechanical Engineering
Optometry
Physics Electronics
Geophysics
Petroleum and Gas Engineering
Pure/ Applied Physics
Pharmacy
Photography
Physics/ Computational Modeling
Statistics and Computer Science
System Engineering
Statistics
Radiography
Veterinary Medicine
In fact, all undergraduate courses offered in all the universities, polytechnics, and colleges of education are accepted.
The following fields will not be considered for the scholarship program
Students of Pre-AND /Introductory Courses
Students doing any Pre-NCE Courses
All Part-time students or any forms of In-service Training
All levels certificate Courses
All Undergraduate Courses in the case of overseas which are not tenable in Nigeria
All Postgraduate Courses tenable in Nigeria
Documents Required for Kano state Government Scholarship Program
The following are the list of documents to be submitted during the course of the application
Your school and JAMB and admission letters as proof that you're a recognized student of the claimed institution
Evidence for State of Origin/Local government
School ID card, International passport or National ID card
Declaration of age from court or Birth certificate
Primary school leaving certificate
Statement of result from your previous examination
A Bank teller or receipt from your previous academic session
A recent photograph (passport size)
How to Apply for Kano State Government scholarship Program
All process of applying for this scholarship award is done and competed online. You're required to visit the application website and begin your application process. You should fill the form online with all the appropriate information and then upload your documents. All documents to be uploaded should be scanned before uploading.