Yet again, another notable scholarship program you can apply for and be granted as a Nigerian studying here is the Agbami scholarship. The Agbami scholarship form is out on sale for those that want to apply and be granted. All you're expected to do is read through the instructions and guidelines that will be disclosed in this article.
This article will give you all the necessary information you need to know about the Agbami scholarship program, the requirements and documents to be presented, the criteria to be considered for the scholarship, and how to apply. Also, the deadlines and other valuable information will be provided towards the end of the write-up.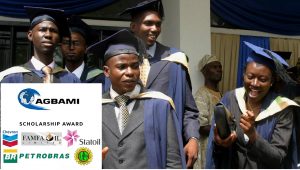 About Agbami Scholarship Program
Agbami Scholarship Program is one of the largest scholarship programs in Nigeria with thousands of alumni across the country. It has been in existence for years now and it is open to all Nigerians.
The scholarship is funded by Star Deep Water Petroleum Limited, a Chevron company, and operator of the Agbami Field. It is aimed at promoting the academic performance of Nigerians and as well encouraging them financially through the allocated fees. It is opened mainly for those who are intending to study in any undergraduate courses in the medical field and engineering.
The scholarship is designed for university students in their undergraduate programs who are either in 100l or 200l in any medical courses or engineering, particularly Medicine & Surgery, Dentistry, Pharmacy, Medical Laboratory Science, Nursing and another engineering at all.
Scholarship Type
The Agbami scholarship program is not open to all categories of students. The scholarship program is mainly for those pursuing their undergraduate education. They're also some selected scholarships for those who wish to enroll themselves in any postgraduate program to apply.
Countries that can Apply for the Agbami Scholarship
Recall that the scholarship is sponsored by Star Deep Water Petroleum Limited, a Chevron company, and operator of the Agbami Field, all activities are restricted to Nigeria and Nigerians alone who have qualified and have passed all the procedures. International students and Nigerians in foreign countries are not qualified for this scholarship scheme.
Criteria for the Eligibility of Agbami Scholarship program
In order to apply and be granted this scholarship award, you're expected to undergo many processes, the best of which is accessing the requirements to be able to determine your eligibility. There's a lot of information you need to know about the scholarship scheme such as its education requirements, the eligible field, and personal information requirements.
How to Apply for Agbami Scholarship
Applying for an Agbami scholarship is very easy. To do that you're to login to the website at http://scholastica.ng/schemes/agbami and then create your application account to begin your application processes. While the scholarship is not always open for application all time, you're advised to keep up to date on when the application will start. Meanwhile, the usual time and for the beginning of the application will be discussed before the end of this article, likewise the deadlines.
Coming to the application, after visiting the link page and you're already on the page, you'll see a tab on the page showing "Apply now" you're to click on them and then you'll be redirected to the next page, click on the register tab and the begin creating your account with them. Creating your account requires you to register your profile thereby inputting your email address and other details. Your profile password should be provided there which you'll later use to log in to complete your application.
Parts of the Information to be Provided
your personal information: Part of your personal Information requirements include your date of birth, your permanent home address, your contact information, and a recent passport photograph.
Your State of Origin: you must also provide your state of origin certificate to proof your state and local government validation
Your University Information: you will also  upload your two admission letters (both JAMB and school admission letter) as part of your university information
Result Information: your result information includes the JAMB result and your university CGPA. As m a medical student in year two, your JAMB result is sufficient for your results information requirements.
After you're done creating your account, then your application phase one is completed. The next thing to do is return back to the scholarship page to complete your application processes.
Individuals are advised to thoroughly study all the instructions available before filling in the information. Wrong information may put your scholarship award at stake. So study it and make sure all the information required is provided.
Requirements and Criteria for Agbami Scholarship
If you're interested in applying for the Agbami scholarship, then you must be studying in any accredited university in Nigeria as an undergraduate. The Agbami scholarship program will not be granted to students in part-time studies
You must be a student in any medical courses such as dentistry, medicine, pharmacy, medical laboratory science, and nursing. Also, all engineering courses are qualified for this scholarship scheme
Also, you must be a 100l student or 200l in any university for your undergraduate course. Individuals above level 2 will be disqualified automatically if they apply. You can look for other scholarship programs for your levels if you're interested in any.
Before you can be shortlisted for the Agbami scholarship, you must also present your Unified Tertiary Matriculation Examinations (UTME) score for proper verification
SSCE results are more than necessary for the scholarship application. You must provide it during the cause of the application or any equivalent certificate
Your matriculation number will be required in order to verify that you're a student of the institution you claimed. both admission letters (JAMB & School's) will be required too
If you're a direct entry applicant, you will be required to show your A level result or any equivalent certificate you used for your entry application.
Agbami Scholarship Application Deadline
The Agbami scholarship program normally opens months after candidates are shortlisted And the application is ongoing until December 5th for 2023 application. After the application closes, the scholarship examination will commence. Individuals will be notified of their exam date via the contact information provided during the application.
If you're interested in knowing about the Agbami scholarship examination, you can visit their official website for more information.