Another promising scholarship for Nigerian students to apply for is the Orji Uzor Kalu scholarship program. Although it is a newly established scholarship program for Nigerian students, however, all indications and the available offer show that it is a very mouth-watering scholarship to apply for.
The scholarship was established by the Nigerian humanitarian and Philanthropist, Orji Uzor Kalu to help Nigerians in studying their dream course in a specific university. It is easy to apply as long as requirements are provided and individuals have met the scholarship criteria to be awarded.
If you're looking for an easy Scholarship to apply for today and you may wonder which is necessary and where to find any, then there's an opportunity for you to utilize this offer and make good out of it for yourself today.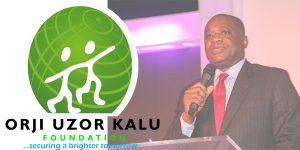 The Orji Uzor Kalu scholarship foundation is an undergraduate scholarship awarded by the popular Nigerian politician, Orji Uzor Kalu, in his quest to appreciate the younger generations and to invest in their education in order to breed more qualified students and to strengthen the national unity among the Nigerians.
Who should apply for the scholarship
Orji Uzor Kalu scholarship foundation is one of the most specific scholarship programs in Nigeria limited to medical students alone. Individuals who are interested in studying medicine as their career are the only people eligible to apply for this scholarship program.
It is a foundation aimed at improving the Nigerian health sector through training students to be one of the best doctors in Nigeria, in the most standard universities to study in the country.
Recall that the award is given to Nigerian students alone, individuals are literally sponsored to study within the country and are sided by a country, particularly by Venezuela. The board through its collaboration with the Venezuela embassy in Abuja has chosen 12 reputable universities for the 650 Nigerians to be enrolled and study medicine.
Scholarship type
Orji Uzor Kalu scholarship foundation program is an undergraduate scholarship scheme specifically granted to potential students of medicine by the Venezuelan government to study for the time phrase. 650 Nigerian students are to be sponsored to study in the 12 designated universities. the shortlisted universities in Nigeria are listed below:
Ahmadu Bello University, Zaria – 50 Students
University of Nigeria, Nsukka – 50 Students
University of Ibadan – 50 Students
University of Maiduguri – 50 Students
University of Calabar – 50 Students
University of Jos – 50 students
Abia State University – 100 Students
Enugu State University – 50 students
Imo State University – 50 Students
Rivers State University – 50 Students.
Anambra State University – 50 Students
Ebonyi State University – 50 Students
It is very important that applicants must be wary of the fact that the foundation won't take part in any form of the admission process to the university. This literally means that applicants must study hard and gain admission into any of the designated universities themselves as the foundation won't influence you to be admitted there.
Hopefully, it is believed that such applicants who can get distinctions in their SSCE results should be able to sit for both UTME and POST UTME and be granted admission.
Orji Uzor Kalu scholarship Award
Unlike many other scholarships in Nigeria, the Orji Uzor Kalu scholarship program is a fully-funded one with all the academic and few non-academic fees covered. Although it is not the same with the Venezuela government scholarship where individuals are given accommodation, tuition fees, health insurance, books allowance, and monthly stipend as a maintenance fee, this scholarship foundation only privileged its beneficiaries to pay off their tuition fees, accommodation, and stipend for maintenance.
After gaining admission, the foundation will pay up the tuition fee directly into the school's account for the recorded number of years (6). Meanwhile, the monthly stipend (maintenance fee) will be deposited directly to the student's account every month during the time of their studies.
Prior to the university spendings, individuals who are interested in this scholarship offer wouldn't be left to pay their application fee themselves. All types of payments from JAMB application fees, the university's post UTME fees, and others are to be paid by the organization directly.
Eligibility Requirements for Orji Uzor Kalu Scholarship Foundation
Recall that the foundation shortlists 650 students for the award, the scholarship is therefore somewhat competitive to be granted. They're numerous Nigerian students with good grades and are wishing to study medicine and surgery in any Nigerian university. To stand better of being granted the scholarship award, you should be able to meet all the requirements mentioned below:
You must be willing to study medicine at your university of choice
You must be an undergraduate who is pursuing admission to the designated universities in the 2023/2023 academic year
Applicants must have good grades in their West African Examination Council (WAEC) or National Examinations Council (NECO). Preferably 'A's grade in either of their Biology, Chemistry, and physics is a big added advantage for the award. However, distinctions alone (As & Bs) is okay to be eligible for the award
In order to be qualified for this scholarship program award, individuals must be a citizen of Nigeria. Foreigners or international students in any of the eligible universities wouldn't be shortlisted
The foundation shall not be accountable for the student's success in any of their two entry examinations (UTME & Post UTME) and the foundation shall not take part in candidates' admission process or try to influence it one way or the other. All applicants are responsible for gaining admission into the universities.
Important Notice:
It is believed that such applicants with good grades in their SSCE results should be brilliant enough to complete their studies within the 6 years time, this is because the foundation won't bear any forms of repeats or withdrawal of any student, this is due to the fact that the tuition fees and other academic fees will be paid once for the years amount spent in the university (6).
Deadlines for the Application
The application for Orji Uzor Kalu scholarship foundation starts from the 20th of August, 2023 to September 20th, 2023.
How to Apply for Orji Uzor Kalu Scholarship
All the interested qualified applicants are required to send their application documents to orjiuzorkalufoundation@hotmail.com and the candidates will be shortlisted after they have gained admission.
Documents to be Submitted for the Application
Self-introduction letter of a maximum of 200 word
Photocopy of West African Examination Council (WAEC) or National Examination Council (NECO).